Writing a blog post can be a hard task for anyone. After thinking of the content you need to have a look at the way you have written it; if it has the right grammar for your audience to understand and has no spelling errors.
Spelling: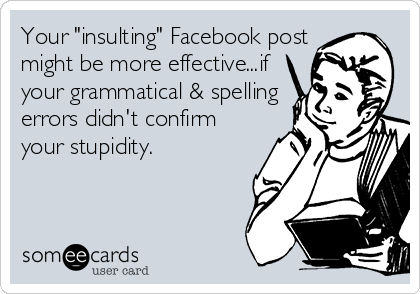 By having correct spelling within a blog post, that is seen by your entire audience, is of high importance. For having a pure understanding of the article/post you have created and are trying to share, spelling is key to it. If your audience can't understand the point you are trying to make then you have lost them.
Grammar:
With the same as spelling, grammar is key for your audience to understand the point you are trying to make. But grammar is considered the more important one between the two. If you can't put the sentence in the correct order you are making your audience confused and therefore not truly understand what you are trying to say.
Problems of this within a Blog:
We live in a world where everything is immortalised on the web so it is very hard to take things off the internet. By not having correct grammar and spelling, it can affect the way the way people view you as a company. This can affect the way your potential clients would look at you and see if you are worth the trouble of working with. There are some ways this can affect any reader, not just potential clients, and these are…
Slowing down your Reader:
The continual usage of grammatical errors and spelling mistakes can slow down your reader. This can occur when your reader is going through your post and trying to work out what you meant. This can cause the reader to seem confused if they can't work out what you were trying to note down or annoyed if they keep seeing mistake after mistake.
Muddle the Meaning of Your Post:
Without the structure of proper English, you can fall into the trap of not following what you trying to say. This can cause you AND your reader not following what you are trying to say. Without this sense of direction of your post, you will end up repeating what you have already said.
What can I do to Stop This?
To make sure this doesn't happen with the blog posts you, as a company, proofread the post you have been working on. If you feel unsure whether the post is perfect ask someone for their help to see if they can see if something is incorrect. If you feel like your spelling and grammar skills aren't your strong suit, work on those skills to the best of your ability.
Written by : Amy Massey